Long Beach Half Marathon
October 12, 2008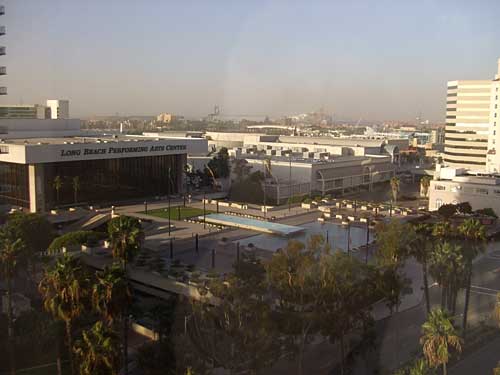 This is the view from our tenth floor room at the Westin Long Beach Hotel. We were right across the street from the Convention Center.
I got up at 5:30 am, after a sleepless night, to get ready for the race. Mom took my picture just before I left to find the starting line at about 6:45.
I hadn't figured out exactly where the Start Line would be, but I figured I'd just follow the crowds. We crossed the street and headed past the fountains at the Convention Center.
Turns out, the starting line was right behind the Convention Center! Here, we gathered in our "corrals" to await the start. Being a smaller race, there were only four corrals. Corral C was for half-marathoners expecting to finish in 2.5 to 3.5 hours, and Corral D was for half-marathoners expecting to finish in 3.5 hours or more. Since I was right on the dividing line at 3.5 hours, I lined up at the back of Corral C.
And we're off! It only took me about five or six minutes to cross the Start Line, unlike Honolulu, where it can be a good 20 minutes before the back-of-the-pack runners get to the start.
We passed this Borders bookstore, with a ferris wheel in front.
And continued on Shoreline Drive.
At the end of Shoreline Drive, we curved around this little park and circled back.
Next, we crossed Queen's Way Bridge heading out towards the Queen Mary.
And came back up Harbor Scenic Drive, coming up on Mile 4.
At the end of Harbor Scenic Drive, we crossed another bridge to lead us to Ocean Boulevard.
As we crossed the bridge, we could see the runners still on Shoreline Drive below us.
Nearing Mile 5, we're curving around towards Rainbow Harbor.
We passed this little park.
And then we ran along the harbor.
Most of the racers around me were also doing intervals of running and walking. I used a 1:2 minute run/walk ratio, which worked pretty well in letting me keep up a good pace while not getting too tired.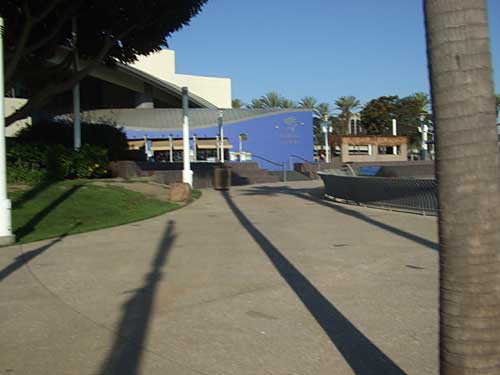 We passed behind the Aquarium of the Pacific.
This steamboat has a restaurant and does harbor tours. They were advertising a "Murder Mystery Dinner Tour."
There was a little lighthouse on the shore.
I don't know what this building was, but it was pretty!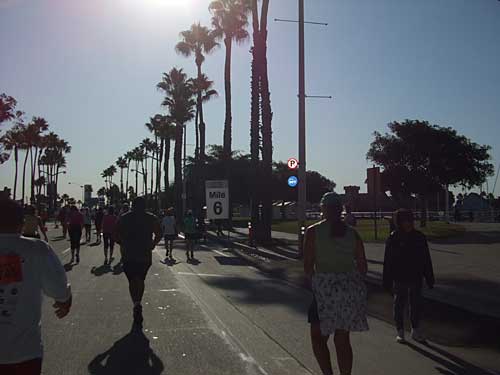 Mile 6! Nearly half done! We're now leaving the Rainbow Harbor and entering Downtown Shoreline Marina.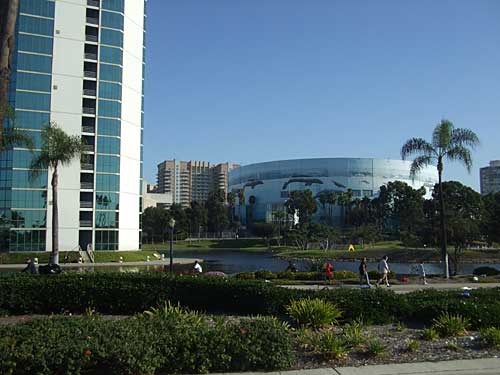 More or less back where we started, we ran behind the Convention Center and this big round building, painted blue with whales on it. It was a landmark for me—on the other side and across the street was our hotel. The race course was very twisty and confusing—I rarely had any idea where I was.
Past the marina, we ran along this beach bike path. It was beautiful, with the sand and the ocean to our right, and the city to our left.
I don't know what this structure was, maybe some kind of pump house? In any case, it was painted very prettily.
We ran along the beach for about three and a half miles.
Here's Mile 9! Only 4.1 miles to go!
Just before Mile 10, the path ended, curving around to join Ocean Boulevard. Now we're in the home stretch, heading back to where we started from.
Between Mile 10 and Mile 11, the race splits. The full marathoners head off to the right, to run another 13 miles through the city, while we half marathoners stayed to the left, continuing on Ocean Boulevard.
The full marathoners soon rejoined us. Now we were being passed on the right by runners who would finish the full marathon before we'd finish the half!
There were some beautiful houses along Ocean Boulevard. I bet that's some expensive real estate!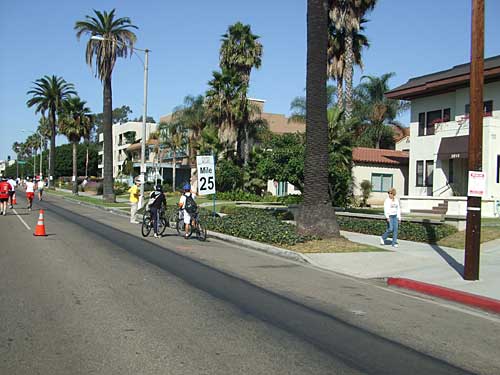 There's the 25-mile marker for the full marathoners! For us half marathoners, it's almost mile 12.
Just after the 26-mile marker, we turned left down Shoreline Drive. With only two tenths of a mile to go, I decided to run the rest of the way. There's the finish line ahead!
I picked up my Finisher's Medal and a bottle of water and walked around the finish area for a bit. My unofficial finishing time was 3:24:01. I was very pleased to have broken 3:30.
Then it was back to the hotel.
My mom was waiting for me outside.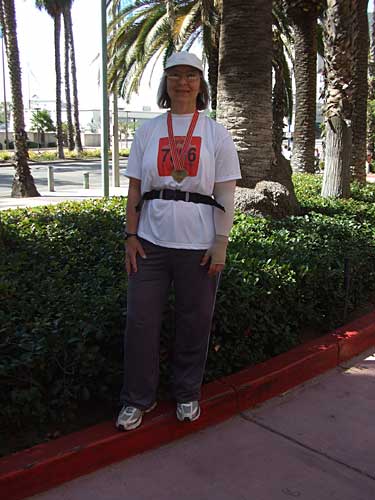 Here I am, in front of the hotel, with my finisher's medal.
After a rest and a shower, we went out to lunch, then visited the Aquarium of the Pacific. All marathon runners got in free! It was nice to run a half marathon for a change, finish in less than three and a half hours and still have time and energy for sightseeing in the afternoon! I'll have to do this again!
No Comments »
RSS feed for comments on this post. TrackBack URL
Leave a comment