OC Half Marathon
May 1, 2026
I drove to Costa Mesa on Saturday, arriving at the Avenue of the Arts Hotel at 3 PM, just in time to check in and catch the shuttle to the Expo. Unlike other races I've attended, the finish line and Expo were seven miles from the starting line, and none of the hotels listed on the race website seemed very close to either, so I just stayed at the host hotel and took shuttles everywhere! It was somewhat less convenient than just walking to and from the race, but the shuttles were pretty well organized, so it worked out well enough.
The Expo shuttles were a bit far apart, though. We got there around 3:20 PM but the return shuttle wasn't until 5:15. The other passenger on the shuttle just wanted to rush in, grab her race packet, and return to the hotel, so the shuttle driver agreed to wait for her. But I wanted to at least walk around a little, so I decided to stay. Two hours was way more time than I needed, but I was glad I'd stayed for several reasons: one was that I bought four packets of GU Chews and took them with me on the race instead of the GU gels I'd brought with me. They were delicious and kept me going without upsetting my stomach, as the gels sometimes do.
The other reason was that I was so tired after driving for 3-1/2 hours and then spending two hours at the Expo, I found it easy to go to bed at 8 PM (after a yummy Carb Load dinner of giant goat cheese raviolis with pesto sauce and beets at the hotel restaurant) and get nearly a full night's sleep before getting up at 3:30 AM on race day.
Our morning shuttle bus picked us up at 5:05 AM and delivered us to the starting line by 5:30 AM.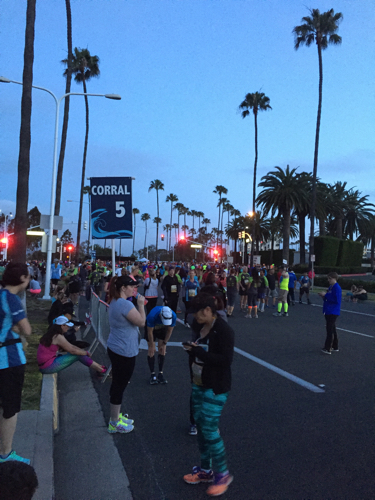 I found my way to Corral 5 at the back of the pack and waited for the race to begin. I was feeling pretty good, if a bit chilly. I wore my capri-length leggings and short-sleeved tee shirt, because I knew I would be warm enough once the race started and the sun came up, but at that time of the morning, it was still only around 55 F.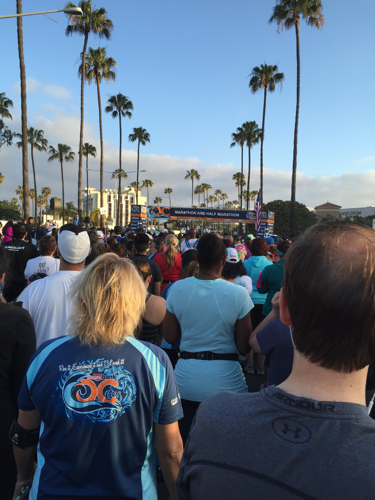 The race begins! This time, I decided not to use my running app to time my intervals, but used my new Timex Ironman watch instead. This is my fourth? fifth? Timex sport watch—I wore out several, then lost my last one in the fire. I only bought this one recently and had used it on maybe one run. Found out after the race started that I'd accidentally programmed the intervals for 30:45 minutes rather than seconds and had to reprogram them on the fly while already running. Heh. But it was nice to use that instead of wearing earbuds. I didn't bring a water bottle with me, either. Figured I'd just use the water stations along the way. All I brought with me was my watch, phone (to use the camera), GU Chews, and a handkerchief, plus my ID and card key for the hotel.
I trained for this race with a 30:30 second run/walk ratio, but at the last minute decided to bump it back to 30:45, which is what I used in Long Beach. I trained hard this time, doing speed work and longer runs, but my long training runs didn't always go well, and I went to Costa Mesa feeling somewhat worn out and depressed and not at all confident of being able to finish within the 3:30 hour time limit. But I was already registered and trained up and figured I might as well go and do my best. But I did think that maybe the 30:30 run/walk ratio was too hard. I was slowing down a lot during my longer training runs, running out of energy before I was finished, so I thought an easier ratio might help me conserve enough energy to keep going throughout the race. I think it really did help!
We started out circling around Fashion Island, then headed down MacArthur Blvd towards the ocean.
I meant to time my mile splits to see how I was  keeping my pace, but I either missed the first two mile signs or they weren't there, so I didn't get to mark a split until mile 3.
My time for the first three miles was around 44 minutes, so I was keeping a pace under 15 minutes. That was good to see, but keeping a good pace at the beginning usually isn't the problem—it's keeping it up throughout the run!
We were running through Corona Del Mar. Some absolutely beautiful homes! I don't even want to know how much they cost.
To the west was Corona Del Mar State Beach, which was also beautiful. The whole course was lovely and enjoyable to run. I continued to feel good and have no trouble keeping my pace.
Around Mile 5, we were running along Bayside Drive, through more lovely homes.
We passed the Balboa Yacht Club.
Profusions of flowers grew on the banks in front of many of the houses. I could have stood all day taking pictures, but I had to keep running! One of the runners I passed had a GoPro strapped to his chest. He recorded every inch of his run!
Just past Mile 8, we were running along Newport Bay. I kept forgetting to time my splits, but when I did, I found that I was managing to keep close to a 15-minute mile pace. Still feeling strong and running well.
Watch For Pedestrians! We ran for a while on a bike trail. Pedestrians were everywhere!
Also, watch for trees!
I don't know what kind of trees they were, but there were some really handsome ones along the side of the road.
The finish line comes into view! I decided to run in the last quarter-mile or so, since I was still feeling good. (I just noticed that that woman in the pink top and blue leggings was also right in front of me at Mile 3. We paced each other the whole way!)
I finished in 3:16:19! A personal best, as well as the best race I've run since I started running again last year. I was beginning to think maybe I'd have to stop racing again, but I'm all enthused again now! I think the speed work I did this time really helped, even though it didn't always feel like it at the time. It also helped that the weather was perfect, and the course was net downhill. I was reasonably well-rested and well-fed, and kept up my hydration and ate my chews every three miles. I think the 30:45 second run/walk ratio also helped. Everything came together just right this time, so I was able to run just about the best race I was capable of. Yay!
I even had enough energy to hang out at the finish line party for a while, after picking up my medals and snacks. This band was called Flashback Heart Attack, an 80s cover band. They really rocked the place! We were encouraged to sing along, and since we mostly all knew the songs, we danced and sang and had a great time.
Then I caught a shuttle back to the hotel, where I posed in the mirror with my finisher's medals—one for the OC Half Marathon, and the big clamshell for the Beach Cities Challenge. I did it! Three half marathons in a row, Long Beach, Surf City, and the OC.
I rested a bit, took a shower, drank lots of water and ate a Clif Bar, then went down to grab some lunch at the hotel restaurant. I checked my iPhone for restaurants in the neighborhood, but didn't see any that inspired me to go out exploring. The hotel restaurant, the Silver Trumpet, was good but fairly expensive. I had some good meals there, though. Lunch was a cheese panini with shoestring fries. After lunch, I stopped in at the gift shop for some snacks (fruit cup and chocolate covered dried strawberries), then settled in front of the fireplace in the lobby to enjoy the ambiance and do some web-surfing, since the WiFi in my hotel room was very spotty.
After I'd been sitting there for a while, one of the desk clerks, I think, brought me a bottle of water, which was awesome of him. Very friendly and nice people at the hotel.
After I got back to my room, I did some experimenting and found the one place in the room where the WiFi reached: in the hallway by the door. So I put down some pillows and hung out there when I wasn't watching TV or reading.
I didn't feel like going back down for dinner, but fortunately I'd brought enough food with me—cherry tomatoes, sugar snap peas, cheese and crackers, as well as extra Clif Bars, coconut water, and soy milk—that I made a meal of that, along with the snacks I'd bought at the thrift shop. I went to bed early again that night.
I had one more meal in the restaurant the next morning for breakfast, an absolutely delicious bagel with creamy goat cheese and smoked salmon, then hit the road for home.
A great weekend! Now I'm ready for the next one.
No Comments »
RSS feed for comments on this post. TrackBack URL
Leave a comment