Star Wars Half Marathon – The Light Side
January 15, 2017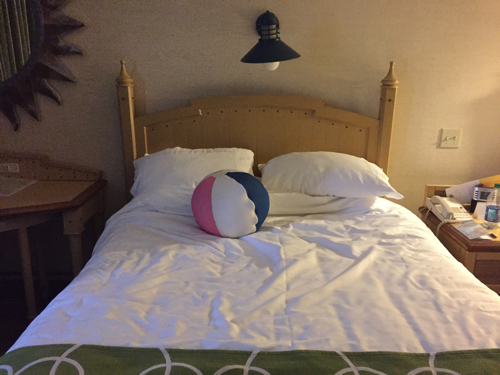 We arrived at Disneyland on Friday afternoon and settled into our lovely hotel room at the Paradise Pier Hotel. The best thing about the hotel was the cute beach ball pillow on each bed! I wanted to take mine home with me, but the card warned that there would be a $65 charge for any beach ball pillow that made its way into a traveler's suitcase. Cute, but not $65 cute!
It had been a long day, driving down from Tehachapi with a stop at the Burbank Airport to pick up my friend, and then sitting in stop-and-go traffic the rest of the way to Disneyland, so, after picking up my race packet at the Disneyland Hotel and making a quick turn around Downtown Disney to grab some dinner, we made an early night.
Saturday we visited Disneyland Park. I hadn't slept well, had a migraine and queasy stomach, but did my best to enjoy the day. Went on Star Tours, Hyperspace Mountain, Matterhorn Bobsleds, it's a small world,  and then had breakfast at the Carnation Cafe´. After that, we went to the Enchanted Tiki Room. By then, we were winding down, so we went back to the hotel to rest. My friend was wiped out, and stayed at the hotel, but after an hour and a half nap, I went back to Disneyland for a few more rides: Mr. Toad's Wild Ride, Finding Nemo's Submarine Voyage, and Pirates of the Caribbean. Had a delicious pasta dinner at Redd Rockett's Pizza Port, then called it a night. My migraine had finally subsided, and I felt better but still tired, which I hoped meant I'd be able to sleep early and get up reasonably rested at 3:30 AM!
I did get to sleep by 8:30 PM but woke at 1 AM and didn't sleep much after that. Still, I felt pretty good when I got up at 3:30 AM, got ready as quietly as I could so as not to wake my roommate, and headed out for the starting line at around 4:30 AM. The starting line was somewhat confusing—we gathered in a parking lot, with a stage and entertainment, photo ops, bag check, and numerous toilets, but no sign of where the starting line was. I ran into a woman I know from the library in Tehachapi! It is a small world.
Eventually, we got herded out of the parking lot and onto Disneyland Drive into our corrals—which were actual corrals of pipe fencing, with crew checking our bibs for our corral letter to make sure we got into the right one. I, of course, was in Corral J, the very last one.
There was a staggered start, with five minutes in between each corral being released. Which meant that Corral J, way at the back of the pack, didn't start until nearly 6:30 AM! It was a long, cold wait, but finally we got to cross the starting line and begin running!
We entered Disney California Adventure and ran past the Radiator Springs Racers just as the sun was coming up.
Then we ran through "a bug's land".
And past Paradise Pier, with Mickey's Fun Wheel and the California Screamin' roller coaster, as the day brightened.
Finally, we ran through Hollywoodland, and out of California Adventure.
We ran through a tunnel that was filled with flashing red and green lights.
Then we entered Disneyland Park, running past "it's a small world"
We continued through Fantasyland towards the Matterhorn Bobsleds.
Then on to Tomorrowland, where the staff directed us on our way with lightsabers.
Around the Matterhorn again.
And through a castle.
And finally out of Disneyland and into Anaheim to finish the race.
We ran past this picturesque duck pond.
I didn't take many pictures once we'd exited the parks—it was a lovely city, with lots of cheerleaders cheering us along, people holding signs, people in costume—mostly Star Wars, but a few others. I just wanted to run and enjoy the sights. I was also a little worried about keeping my pace, but it turned out not to be a problem. It was a nice, flat course and the weather was good—he sun did come out, but it was early and the air was still brisk so it didn't bother me. I managed to keep up a pace of around 15:30-minute miles pretty much all the way.
There were staff at each mile marker telling us how many minutes ahead of pace we were. Since they didn't start counting the limit until everyone had crossed the starting line, and I was somewhere in the middle of my corral, I started out with a few extra minutes, and gained another minute every couple of miles or so. I felt good and never got really tired. I brought Clif Shot Bloks with me, and tried to remember to eat a couple every couple of miles, and also drank water at each water station.
The only pain I ended up with was a blister on the inside of my right little toe, where it was rubbing against my fourth toe. I don't know why, when I never got blisters in any of my long runs. It might have been because I re-laced my shoes to try to leave more room for my toes, because they'd been getting very sore from bumping into the toes of my shoes. It did seem to help that, because my toes didn't get sore, but I got a blister instead! Oh well!
My official finishing time was 3:22:53 —my second best half marathon ever, coming in almost a minute ahead of my first Long Beach in 2008. I was very pleased with my time, especially considering how difficult my training had been—I missed many runs, due to injuries, bad weather, and holiday preparations. And then, what with having a migraine the day before, I was not at all sure of being able to finish in the the 3:30 time limit. But it turned out to be a good race, one I was able to finish in good time fairly easily! And it was a lot of fun to run.
Our finisher's medal was awesome!
I hung about at the finish area for a bit, eating some of the snacks we were given, then headed back to the hotel for a shower and lunch before spending the rest of the day at California Adventure Park. We rode Soarin' Around the World, The Little Mermaid, and Mickey's Fun Wheel before grabbing early dinner at Smokejumpers Grill. Then it was back to the hotel for one more night before heading home on Monday.
It would have been nice to go on a few more rides, but the parks were jam-packed with visitors for the race weekend, and I needed my rest for the half marathon, so I didn't want to push myself or stay up too late. Save that for another trip! But it was still a good trip, and a fun race.
No Comments »
RSS feed for comments on this post. TrackBack URL
Leave a comment